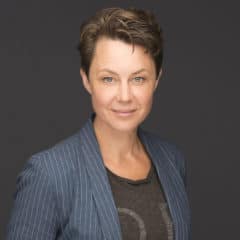 Sara Cooper
Academy Director
A professional performer with 25 years experience teaching and performing, and qualified drama teacher, Sara started Cooper Screen Academy in 2010 with the aim of increasing professional training and work opportunities for Tasmanian performers. In 2014 Sara was awarded the BOFA Entrepreneurial Spirit Award for her services to the Tasmanian entertainment industry via Cooper Screen Academy.
Beginning her career as an infant teacher (1992-1995), Sara went on to work as an actor both locally and internationally in theatre, film, and TV and voice, with a career spanning over 22 years. Her screen credits include playing Will McInnis' daughter in the multi-award winning 2001 mini-series My Brother Jack (Channel 10), as well as roles in Rosehaven (ABC), The Gloaming (STAN), My Place Series 2 (ABC), The Kettering Incident (BBC/Foxtel), the Canadian/Australian feature film Arctic Blast, Noirhouse (ABC iview), and over 40 short films and TV commercials. Sara voices multiple characters for international animation series including; Megabites (ABC), Pixel Pinkie (Channel 9), Buzz Bumble (Channel GO!) and Fanshaw and Crudnut – the telemovie.
Sara's 50 professional stage credits include touring to Shanghai with Terrapin's Explosion Therapy (winner "Most Outstanding Production" – 2008 International Children's Theatre Festival, Shanghai), It's Partly about Love – It's Partly about Massacre, Sick and The Berry Man for The Tasmanian Theatre Company, Dream Masons (Ten Days on the Island), the premiere season of the AWGIE winning Beyond the Neck, The Effect for Loud Mouth Theatre Company and the 2019 international premiere of The Mares by Kate Mulvany for Ten Days on the Island.

A versatile performer, Sara was a Clown Doctor for The Humour Foundation, performing in hospitals around Australia for six years, as well as a regular performer in Big Monkey's Botanical Gardens shows (
Robin Hood, Alice in Wonderland, Monkey Magic, Treasure Island
and
Alladin
). Her self devised roving acts were featured over six years at many festivals including the Taste Festival.
In 2015 Sara won Best Supporting Actress and Best Dramedy Supporting Actress at the Rome WebAwards for Noirhouse (ABC iview) and was nominated for Best Actress at The inaugural 2015 Errols for her performance in the Tasmanian Theatre Company's The Berry Man. Committed to professional development, Sara has continued to train in improvisation, clowning, screen acting and more, under world renowned practitioners; Ivana Chubbuck (L.A.), Aleksi Vellis, Di Drew, Improbable Theatre (U.K), Phillipe Gaulier (France), Justus Neumann (Austria), Tom Greder and Clare Bartholomew, Laura Sheedy; Rowena Balos (L.A.).  She has also completed workshops in audition technique with casting directors from The Great Gatsby, Miss Fisher Murder Mysteries and Mission Impossible 2.
Sara is a graduate of The John Bolton Theatre School (1997, Melbourne) The University of Tasmania (1992, B.Ed, Drama Major) and has been a proud member of M.E.A.A. since 1999.